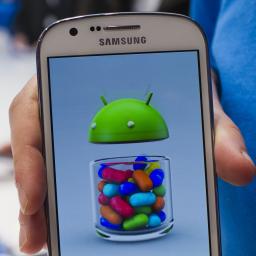 Foto:  Bloomberg
Als op Android-toestellen een beveilig is ingesteld, zoals een pincode, wachtwoord of ontgrendelpatroon, moet die code worden ingevoerd om de beveiliging te wijzigen of uit te schakelen.
Een bug in Android 4.3 maakt het mogelijk die stap in de beveiliging te omzeilen, meldt beveilingsbedrijf Curesec op Full Disclosure. Op die mailinglijst bespreken beveiligingsonderzoekers onder andere lekken en kwetsbaarheden in software.
Door de check bij het wijzigen van een beveiligingsmaatregel te omzeilen kan een kwaadaardige app te allen tijde alle beveilig van Android 4.3-apparaten uitschakelen, zeggen de onderzoekers.
In de nieuwste versie van Android, 4.4 Kitkat, is de kwetsbaarheid niet meer aanwezig. Curesec heeft de bug op 11 oktober bij Google aangegeven, het bedrijf nog geen uitsluitsel gegeven over het verhelpen van de bug.
Jelly Bean is geïnstalleerd op de meerderheid van de Android-toestellen, versie 4.3 staat op 4,2 procent van de Android-apparaten. Bekijk de verdeling van Android-versies
Zie welke nieuwe functies Android 4.3 toevoegt