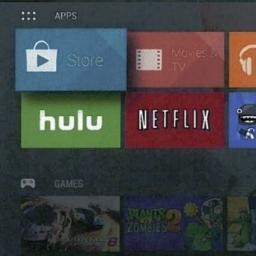 Foto:  The Verge
Dat meldt Gigaom op basis van anonieme bronnen.
De focus van Android TV zou op gaming liggen, maar het moet ook eenvoudiger en sneller worden om programma's of video's te bekijken.
Apps krijgen de mogelijkheid om content meteen als kaart weer te geven. Een serie van Netflix kan op die manier meteen gestart worden na het aanzetten van de tv, zonder een app op te hoeven starten.
Android TV wordt geen speciale mediaspeler van Google, maar een platform. Tv-fabrikanten kunnen er voor kiezen om hun tv ermee uit te rusten en fabrikanten kunnen een mediaspeler uitbrengen op basis van Android TV.
Concurrentie
Google heeft al de Chromecast, maar de Chromecast ontvangt alleen streams vanaf een pc, telefoon of tablet en kan zelf geen spelletjes draaien. De hardware waar Android TV op draait zou dat wel moeten kunnen. Of de spelletjes op de tv dan via een smartphone of een controller bestuurd kunnen worden is niet bekend.
Android TV lijkt veel op Fire TV van Amazon, dat recentelijk werd geïntroduceerd. Ook Apple heeft met Apple TV eenzelfde soort settopbox. Verder zullen er in 2014 tv's van Philips verschijnen die ook op Android draaien en in staat zijn om spelletjes te draaien.
Lees meer en bekijk plaatjes van Android TV