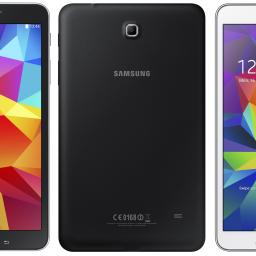 Foto:  Samsung
Samsung kondigde de tablets aan op zijn website.
De drie tablets zullen in het wit en zwart verkrijgbaar zijn en hebben allemaal een achterkant met reliëf. De nepstiksels aan de randen, zoals bij de Note Pro-serie, ontbreken echter. De tablets hebben een resolutie van 1280×800 pixels en draaien op Android 4.4 (Kitkat).
De tablets delen ook dezelfde quadcore-processor met een kloksnelheid van 1,2 GHz, die bijgestaan wordt door 1,5 GB werkgeheugen. De 10 en 8 inch variant hebben 16GB opslaggeheugen, dat met een micro sd-kaart uitgebreid kan worden. Het 7 inch-model is uitgerust met 8 of 16 GB, dat ook uitgebreid kan worden.
De tablets hebben allemaal een camera van 3 megapixel aan de voorkant en 1,3 megapixel aan de achterkant. Er zullen versies beschikbaar zijn die 3G- of 4G-netwerken ondersteunen. De Nederlandse prijzen en exacte releasedatum zijn nog onbekend.
Lees de review van de Galaxy Tab 3