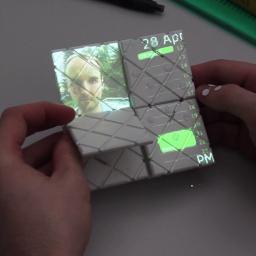 Foto:  Paddle
Dat meldt Tweakers. Volgens de onderzoekers is het opvouwbare ontwerp ideaal omdat de gebruiker het apparaat eenvoudig om kan bouwen naar een andere vorm.
Het concept krijgt de naam Paddle en zou niet alleen als smartphone of tablet fungeren. De onderzoekers melden dat de Paddle ook als gamecontroller, smartwatch of e-reader kan worden gebruikt.
Zo kan de Paddle bijvoorbeeld in de vorm van een boek of clamshell-telefoon worden gevouwen, om respectievelijk een boek te lezen door pagina's om te slaan of telefoongesprekken te voeren. 
Flexibiliteit
"De Paddle combineert de flexibiliteit van touchscreens met de kwaliteiten van fysieke bediening", aldus Raf Ramakers, student Human Computer Interaction bij de Universiteit van Hasselt.
De onderzoekers presenteren de Paddle eind april tijdens de CHI-conferentie in het Canadese Toronto. Daar hoopt Ramakers interesse te wekken bij fabrikanten.