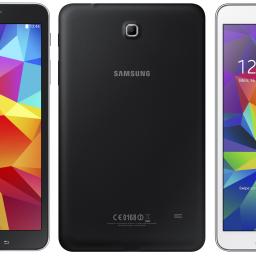 Foto:  Samsung
Dat blijkt uit prijzen die woensdag zijn verschenen bij Tabletcenter.nl, een webwinkel van Coolblue.
Samsung kondigde de nieuwe tabletlijn dinsdag aan, maar maakte nog geen prijzen bekend voor de Nederlandse markt.
Het bedrijf zal volgens de gegevens van Tabletcenter de 7 inch-versie alleen als een wifi-variant verkopen terwijl er van de twee grotere tablets ook versies komen met ondersteuning voor 3G en 4G. De kleinste tablet is verkrijgbaar voor 199 euro terwijl de Tab 4 8.0 269 euro (wifi) of 389 euro (3G/4G) kost. De 10,1 inch-variant kost 349 euro (wifi) of 469 euro (3G/4G).
De prijzen van de Tab 4-serie liggen iets lager dan die van de Tab 3-lijn bij de lancering. De Tab 3-tablets zijn inmidels echter wel voor een lagere prijs beschikbaar.
De kleinste versie is vanaf medio mei verkrijgbaar terwijl op de 8 inch-versie nog tot juni moet worden gedacht. De 10,1 inch Galaxy Tab 4 met wifi ligt ook in mei in de winkels, maar het model met 3G en 4G volgt pas in juni.
Bekijk alle specificaties en foto's van de Galaxy Tab 4-lijn op NUtech.nl