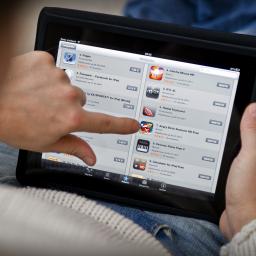 Foto:  ANP
Dat meldt The Wall Street Journal. De games worden uitgelicht via de startpagina van de app-winkels en de lijst met aanbevolen apps.
In ruil voor de tijdelijke exclusiviteit helpen Apple of Google de ontwikkelaar met de promotie van de game. Er zou niet voor een exclusieve gamelancering worden betaald, hoewel dergelijke promotieactiviteiten ook als een indirecte betaling kunnen worden gezien.
Door belangrijke games een prominente plek te geven, kunnen zowel Apple of Google als de ontwikkelaar ook meer omzet genereren door onder andere in-app-aankopen.
Apple heeft onder andere een overeenkomst met Electronic Arts gesloten om Plants vs. Zombies 2 voor twee maanden exclusief in de App Store aan te bieden.