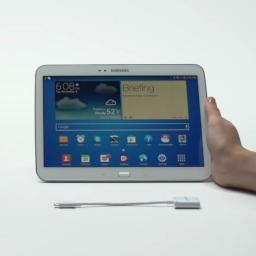 Microsoft vergelijkt zijn producten erg graag met die van concurrenten en in de nieuwste reclame wordt de Surface vergeleken met de Samsung Galaxy Tab 3 10.1.
De Surface zou superieur zijn omdat deze een usb-poort heeft die ten allen tijde gebruikt kan worden, ook als de tablet opgeladen wordt. De micro-usb poort van van Tab 10.1 kan alleen gebruikt worden om of op te laden of om andere apparaten te verbinden met de tablet.
Eerder maakte Microsoft de iPad al belachelijk in een commercial en ook Google moet het ongelden in een campagne waarin Microsoft onder andere mokken verkoopt met anti-google teksten.
Bekijk meer reclames waarin Microsoft concurrenten belachelijk maakt