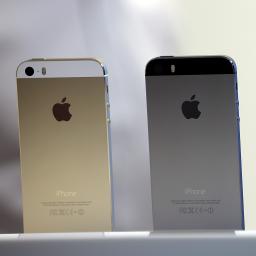 Foto:  Getty Images
Dat meldt de Wall Street Journal woensdag op basis van anonieme bronnen.
Volgens de bronnen zou Apple de bedrijven Winstron en Compal gecontracteerd hebben om respectievelijk de iPhone 5C en de iPad Mini te gaan maken. Een anonieme bestuurder bij Foxconn laat verder weten dat Foxconn de productie van de iPhone 5S gaat verhogen.
Van de iPhone 5S is bekend dat de telefoon moeilijk verkrijgbaar is. Door Winstron en Compal in te huren, kan Apple mogelijk sneller inspringen op een toenemende vraag naar iPhones en iPads. Foxconn zou vooralsnog het enige bedrijf zijn dat op korte termijn meer exemplaren van de iPhone 5S kan maken.
iPad Mini
Het is niet duidelijk of het om de eerste iPad Mini gaat, of de onlangs aangekondigde iPad Mini (2). Volgens eerdere geruchten verwacht Apple een tekort aan iPad Mini 2′s, omdat het retinascherm erg lastig te produceren is.
Over de iPad Air en een mogelijk tekort daarvan wordt niet gesproken. Over de verkoopcijfers van Apples nieuwste iPad is nog niets bekend. Vaak maakt Apple na het eerste weekend dat een product te koop is verkoopcijfers bekend, maar dat deed het bedrijf dit maal niet. Onlangs werd nog bekend dat het 203 euro kost om de iPad Air te maken.